The venue of the TEXAS Symposium 2015 is the International Conference Centre Geneva (CICG). The CICG is a modern facility, with many rooms for parallel sessions and meetings, conveniently located 400m from the entrance of the main building of the United Nations. It can be reached in 10 minutes by public transport from the international airport and the railway station. Lake Geneva with the famous Jet d'eau water fountain and many parks are at walking distance.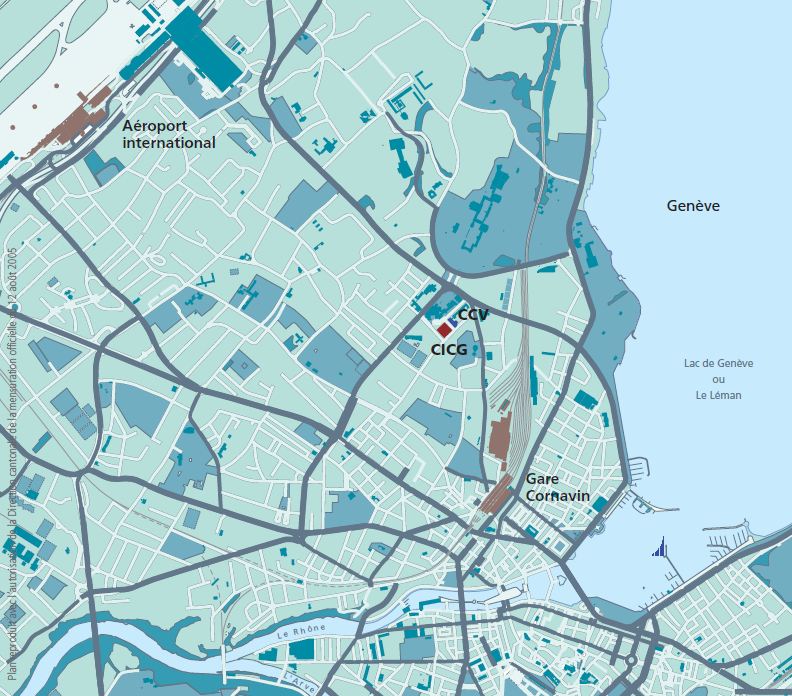 International Conference Centre Geneva (CICG)
17 Rue de Varembé
1211 Genève 20
T +41 22 791 91 11
F +41 22 791 90 64
www.cicg.ch
Services available at the conference venue:
Restaurant, bar

Free Wi-Fi connection

Access for people with disabilities

Public parking of 1200 places
The restaurant
Lunches can be taken at the CICG restaurant (level 1). From Monday to Thursday meat, fish and vegetarian menus will be served for about 20CHF. Salad and dessert buffet as well as side dishes will also be available. Sandwitches can also be purchased at the bar (level 0). On Friday the restaurant will propose a Christmass buffet with foie gras, lobster, octopus, oysters, salmon, etc for 30 CHF.
The conference rooms
The plenary sessions (room 2), the poster & coffee break area, speaker corner, and the registration desk are located on the entrance level (level 0).
The parallel sessions will be take place in rooms 3, 4 and 23 (level 0), rooms 13, 14 and 7&8 (level 2) and rooms 16 and 17 (level -1).
How to reach the CICG ?
By public transportation:
Each conference participant may travel for FREE on Geneva's public transports (TPG), using the ticket provided by each hotel upon registration, the so-called "Geneva Transport Card". Nearest stops:
Tram 15 ("Nations" stop)

Bus 5 ("Vermont" stop), Bus 8 ("UIT" stop), Bus 11, Bus 22, Bus 28 ("Nations" stop)
By foot:
Combined with public transportation, walking is the most efficient way to reach the conference venue. Geneva is a city on a human scale: the CICG may be reached in 15-20 minutes on foot from most hotels and from the train station. ➠ Walking-time map
By bike:
You can also borrow bicycles for FREE! Enjoy getting around on two wheels and pedal throughout the city during your stay. Borrowing sites: