QCD@LHC 2018
27th - 31st August 2018, Dresden, Germany
Welcome to the 9th edition of the international QCD@LHC workshop, which aims at fostering discussions and collaboration between experimenters and theorists, working on strong interactions at the LHC.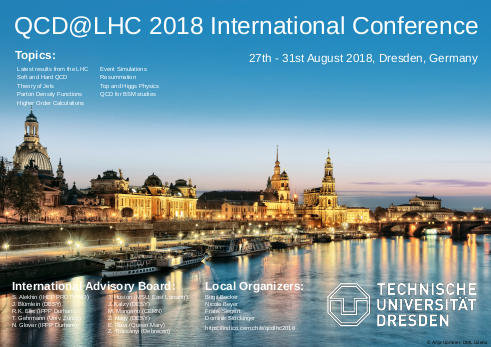 Topics to be discussed include:
Latest results from the LHC on Soft and Hard QCD
Theory of Jets
Parton Density Functions
Higher Order Calculations
Event Simulations
Resummation
Top Physics
Higgs Physics
QCD for BSM studies
Confirmed plenary contributions include:
Jet substructure and H/V/top-tagging
(Simone Marzani & ATLAS/CMS speaker)
Inclusive and dijet production at the LHC
(Joao Pires & ATLAS/CMS speaker)
QCD background processes in BSM searches
(Jonas Lindert & ATLAS/CMS speaker)
Determination of the strong coupling constant
(N.N. & ATLAS/CMS speaker)
Multiloop and multileg developments
(Stephen Jones)
Recent developments in resummation
(Luca Rottoli)
Monte Carlo event generators
(Silvan Kuttimalai)
Recent developments for PDFs
(Robert Thorne)
Top production and top mass
(Andre Hoang)
Heavy Flavour Production at the LHC
(Stefano Forte)
EW corrections in the light of QCD precision
(Marek Schönherr)
QCD corrections for BSM signal processes
(Anna Kulesza)
Uncertainties and challenges in jet reconstruction
(ATLAS speaker)
Top quark measurements
(CMS speaker)
Vector boson(s) and jet production
(ATLAS speaker)
Recent results in Higgs and BSM searches
(CMS speaker)
Heavy flavour production and decay
(LHCb speaker)
Heavy Ions
(Livio Bianchi (ALICE))
The Call for Abstracts for parallel talks is also open and more details about the parallel tracks can be found here.
The conference is a follow-up to the successful workshops with the same name in
We are looking forward to welcoming you in Dresden!
Dominik and Frank for the local organisers
Registration
Registration for this event is currently open.