Public transport service in Prague
Dopravní podnik hlavního města Prahy (DPP), www.dpp.cz
Prague's public transport service includes metro, tram and bus lines and also less likely of your interest trains, funicular to Petřín tower and ferries.
Metro
(A-green, B-yellow and C-red line) operates 5:00 – 24:00. Changing stations Muzeum (A-C), Můstek (A-B), Florenc (B-C).
Trams
Daytime operation 4:30 – 24:00, night service provided by tram lines 91 to 99.
Buses
Similar to tram operation, night service provided by lines 901 to 915.
Tickets
Travelling is allowed with a valid ticket only - purchased in advance. The ticket sale is provided in yellow vending machines (coins), installed in all metro stations and at selected surface transit stops including the airport and railway stations and most of the newsagent's (and buses 40 Kč, exact change usually needed). Any ticket needs to be validated only once in a yellow machine (metro entrance, tram, bus …) then you can change the types of transportation for the given time of validity of the ticket.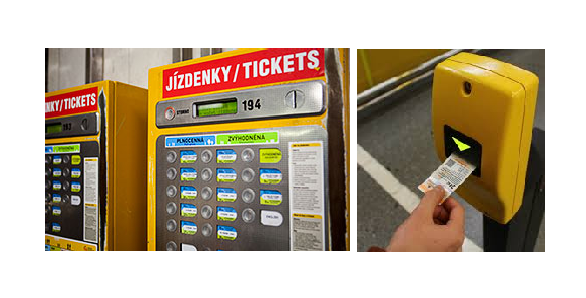 Fares
For most of you the zone P adult fare applies. Seniors over the age of 70 can use the service free of charge (some ID document is needed). Seniors between 65 and 70 are in principle entitled to a reduced fare, however, a special document must be issued by DPP.
Single-trip tickets: 32 Kč (90 min) and 24 Kč (30 min). In most cases 32 Kč ticket is fine unless you are sure you make your journey in under 30 min.
Short-term tickets: 110 Kč (24 h) or 310 (72 h) convenient if you plan to travel around.
Oversize luggage: for items over dimensions of 25×45×70 cm a single ticket of 16 Kč is required - which is a discounted price of the 32 Kč ticket.

Arrival by airplane
Transportation from the Vaclav Havel Airport Prague to the venue and hotels is available by Taxi or Public transport.
By taxi, travel time to the Prague where most hotels are located is about 15 minutes, and the fare is not more than 480 CZK. Contact counters of taxi operators are located at the arriving hall of Terminal 1 and 2. Departure points are displayed in front of arriving halls. Be sure to take only authorized Taxi providers (either AAA Radiotaxi or 1.1.1. RadioCAB taxi), and request receipt from the driver.
By public transport, allow approximately 30 minutes (strongly depends on the location of your hotel). The fare is 24 CZK for ride up to 30 minutes and 32 CZK for longer rides (up to 90 minutes). You can buy a ticket from Public Transport counters in Arrival Halls of Terminals 1 & 2 (from 7 am to 10 pm), ticket machines placed at bus stops or from a bus driver (cash required, price 40 CZK). The Bus stations are located in front of terminal halls. Take the bus number 119 to the Nádraží Veleslavín final stop and change to the Metro "A" (green line) to continue your journey to the city center.

AE (Airport Express bus), special ticket for 60 CZK (in the vending machine or at the driver) is required. The bus goes directly to Masaryk Station (Masarykovo nádraží) and Prague Main Station (Hlavní nádraží) where at the latter one can use Metro line C for further journey a new regular ticket is needed.
In case of need (of information, maps, short-term tickets) you can use the Tourist Information Centres located both in terminal 1 and 2.
Arrival by train
From the Praha hlavní nádraží (Prague main station) or Praha - Holešovice station take the Metro. You can buy a ticket from ticket machines placed at Metro entrances (cash required).
Directions from the airport to the city centre

Directions to 17. listopadu dormitory

Directions to the conference venue

In general, depending on your location you may get to the venue:
By Metro: Take the "A" (green) line to Dejvická station and take exit labeled Vysoké školy.
By tram: Take the tram number 1, 2, 7, 8, 11, 18, 20, 22, 25, 26 or (night 51, 56, 57) to the Dejvická stop.
By bus: Take the bus number 107, 116, 143, 147, 149, 160 or 180 to the Dejvická stop.
Take Šolínova street to the North, turn left on Technická street and follow the street to its dead end. Entrance to the building will be in front of you.
Alternatively
By tram: Take the tram number 1, 2, 7, 8, 11, 18, 20, 22, 25, 26 or (night 51, 56, 57) to the Thákurova stop.
Take Thákurova street and follow its to the crossroad with Technická street. Entrance to the building will be on your left.
Dejvická site
17. listopadu site
Metro map