---
Lunch suggestions map
A Google doc with a few lunch suggestions in the area west of campus is here:
https://docs.google.com/document/d/1rbiIS_W2M30e_nQT302X3nuLGsc3FSwODp9qy_OnsWQ/edit?usp=sharing
Currency
The currency code for South Korean Won is KRW, and the currency symbol is ₩ .
$1 ≒ ₩ 1169 (as of 5/7/2019)
€1 ≒ ₩ 1310 (as of 5/7/2019)
※ You may want to carry some cash with you, since small shops in street markets take only cash.
※ Workshop registration fee (100,000 KRW) will be accepted in cash only on site.
※ ATM and Currency Exchanges are available at all airports in Korea, on campus and the hotel.
The Workshop Hotel Location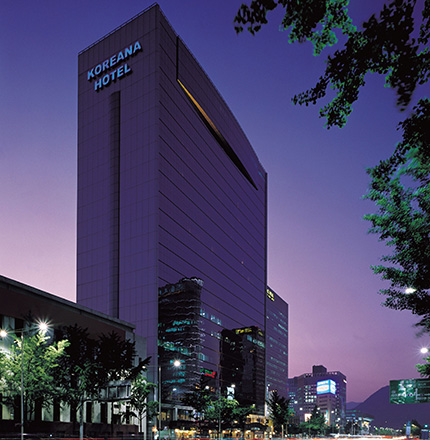 Address: 135 Sejong-daero, Jung-gu, Seoul, Korea
Phone: +82-2-2171-7000
Transportation
http://www.koreanahotel.com/en/overview/location.htm
From Incheon Airport to Koreana Hotel
Taxi (fare approximately KRW70,000): All taxis in Seoul accept credit cards.

Airport bus: see information on hotel page linked above.

Airport train: Regular (all stop) and slightly faster express trains are available. To use the regular train, see information on the hotel page above.
The express train goes directly to Seoul station from which point you will need to transfer to the subway line 1 for one stop to City Hall station or take a taxi. The express train requires a special ticket which can be purchased before boarding at the airport. More information:
https://www.arex.or.kr/
From Koreana Hotel to Korea University
By Taxi: About 20 minutes
By Subway: About 35 minutes (three choices)
(i) Take Line 5 transfer to Line 6 at Cheonggu Station, and exit at Korea Univesity Station
(ii) Take Line 1 transfer to Line 6 at Dongmyo Station, and exit at Korea University Station
(iii) Take Line 2 transfer to Line 6 at Shindang Station, and exit at Korea University Station
By bus: Number 101 board across the street from the hotel and get off at Korea University bus stop, also about 35 minutes.
Seoul Tourist information
http://english.visitseoul.net/index
Seoul Tourist Guide Book and Map
http://english.visitseoul.net/map-guide-book?WT.ac=MAIN_Maps%C2%A0&%C2%A0Guidebooks