Money
Austria's currency is the Euro.
Money can be exchanged in most banks and exchange offices, although the former usually offer better conditions. Normal bank opening hours are Monday till Friday 9h-18h. Exchange offices located at the airport, railway stations, and in the first district open also during the weekend.
ATMs ("Bankomate") are usually located next to bank offices and can be recognized by the green-blue "B" sign (see below). Most ATMs do not charge an additional transaction fee but currency conversion costs or other fees by your local bank might still apply.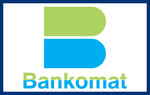 Many shops and restaurants accept debit and credit cards, but some smaller places accept only payments in cash. When dining in groups, it is always possible to ask for separate receipts.
Water
Tap water in Vienna can be safely consumed everywhere and is of extremely high quality. It is sourced in the Alps 100 km southwest of the city (see above) and brought to Vienna by a system of aqueducts constructed in the second half of the 19th century.
Drinking fountains can be found throughout the city. If the water of a fountain is non-potable, it is posted ("Kein Trinkwasser").
Tap water can be ordered in any bar or restaurant (ask for "Leitungswasser") and is usually free of charge. In the rare case a restaurant charges for tap water, it must be stated in the menu.
Climate
Vienna has a temperate climate. Summers in Vienna are usually quite warm with an average daily high in July of around 26°C (79°F). Further data on the climate of Vienna can be found here. Note that air condition is not as common in Austria as it is in other parts of the world.
Electricity
Austria uses the standard European power grid of 230V AC at 50 Hz and the F-type socket (see picture). This socket type works with the usual Euro plug as well as the bigger version with grounding seen in the picture. Please check whether you will need an adapter to charge your portable devices. Guests from the UK, Ireland, the US, and Japan will certainly need an adapter.
Safety
Vienna is a very safe city and every part of the city can be explored at any time of the day. Like in any other large city, practicing common sense is nevertheless advisable.
Vienna is home to an excellent medical infrastructure in the undesirable event that you need medical assistance during your stay. Medical expenses of foreigners insured in another country of the EU and in possession of a European Health Insurance Card (EHIC) are usually covered by mutual agreements. However, in order to avoid high medical cost, we advise all participants to make sure that they are covered during their stay in Austria.
Please also note that the Local Organizing Committee cannot take any liability for accidents, illnesses, or injuries that may occur at or during the conference, no matter if those happen at the venue or outside.