The International Conference on Electromagnetic Isotope Separators and Related Topics (EMIS) will be held at CERN, the European Organization for Nuclear Research, in Geneva, Switzerland, from 16th to 21st September 2018. The EMIS 2018 conference will be hosted by ISOLDE, CERN. EMIS is the flagship conference series on techniques in the field of low-energy nuclear science. EMIS 2018 is the 18th conference in this series.
The "Special issue: EMIS 2018" has been published in vol. 463 of the journal NIMB. This Special Issue follows the Regular articles which appear in the same volume of the journal:
https://www.sciencedirect.com/journal/nuclear-instruments-and-methods-in-physics-research-section-b-beam-interactions-with-materials-and-atoms/vol/463/suppl/C
Conference participants should receive a printed copy of the Special Issue by the end of May latest. If this is not the case, please let us know.
EMIS2018 is endorsed by the International Union of Pure and Applied Physics (IUPAP).
The EMIS2018 organisers have agreed to abide by IUPAP Policies on Conferences .
---
Workshops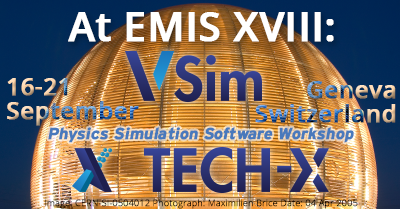 ---
Sponsors
---
Exhibitors