Distinctions
I am happy to announce that the following students have passed the CSC exam with distinction!
34 points out of 35:
Jochen Gemmler (KIT, Germany)
Christian Graf (Max Planck Institute, Germany)
Lukas Kreis (GSI, Germany)
Daniel Rauch (DESY, Germany)
33 points out of 35:
Pirmin Berger (ETH Zurich)
Miroslav Gabriel (Max Planck Institute, Germany)
Antoni Shtipliyski (Imperial College London, UK)
32 points out of 35:
Jonatan Adolfsson (Lund University, Sweden)
Kevin Floeh (KIT, Germany)
Felix Metzner (KIT, Germany)
Arne Reimers (University of Hamburg, Germany)
Miguel Hermo Serans (CERN)
Benedikt Würkner (CERN)
Wojciech Ziolek (CERN)
---
14 September 2017
CSC 2017 Movie
The CSC 2017 Movie is out! Enjoy: https://youtu.be/Jb6lqrV8XLM
---
8 September 2017
Photo Contest
Thank you to all the participants for your beautiful photos and congratulations to the winners! A big thank you to our fabulous international jury: Viktoria, Hannah, Nilou, Stefan and Wojciech that made this possible! Here are the runners-up and winners per category:
Artistic
Runner-up: Nikos Kasioumis
Winner: Kristian Bjoerke
Humorous & Surprising
Runner-up: Ram Krishna Dewanjee
Winner: Benedikt Wurkner
Sports & Social
Runner-up: Nikos Kasioumis
Winner: Viktoria Hinger
School spirit
Runner-up: Alberto Pace
Winner: Natalia Karina Juszka
---
7 September 2017
Exam Results
The following students passed the CERN School of Computing exam:
Alexandra Schulte
Alexei Sytov
Andrei Patrascoiu
Antoni Shtipliyski
Arne Christoph Reimers
Bartosz Piotr Malecki
Benedikt Würkner
Carlos Eugenio Perez Lara
Chi-Hsun Wu
Christian Bourjau
Christian Graf
Coralie Neubuser
Daniel Rauch
Davide Pedretti
Denis Boyda
Dominic Blöch
Edoardo Maria Farina
Eleni Myrto Asimakopoulou
Ernst Hellbaer
Eva Brottmann Hansen
Felix Metzner
Francesca Capel
Francesco Peri
Hannah Short
Helle Gormsen
Hugo Gonzalez Labrador
Jochen Gemmler
Johannes Brandstetter
Jonatan Adolfsson
Julia Hrdinka
Julio Calvo Pinto
Kevin Marcel Floeh
Kristian Bjoerke
Lennaert Bel
Lukas Kreis
Marzieh Bahmani
Miguel Hermo Serans
Mikhail Sizov
Milene Calvetti
Miroslav Gabriel
Moritz Gelb
Natalia Karina Juszka
Navrit Bal
Niloufar Alipour Tehrani
Pirmin Berger
Ram Krishna Dewanjee
Ran Du
Remco Castelijn
Roberto Andrade Paredes
Scott Rowan
Servesh Muralidharan
Stefan-Gabriel Chitic
Thomas Madlener
Tobias Wegner
Toni Sculac
Ulf Bobson Severin Tigerstedt
Viktoria Hinger
Vojtech Simetka
Wojciech Ziolek
My warmest congratulations to all,
Sebastian Lopienski, School director.
---
7 September 2017
Photo Contest
Amateur photographer? Consider yourself the next Annie Leibovitz? Here's your chance to unveil your talent to the world, and win fabulous prizes.
¡¡ Enter the CSC Photo Contest !!
Rules
No more than 10 photos per person.
A jury member can submit photos.
Photos will be judged across 4 categories:

Surprising & humourous
Sports, activites & excursions
Artistic
School spirit
How to submit
1) Go to the CSC 2017 photo gallery at https://cern.ch/csc-photos/CSC2017/ and select Filter
2) Select yourself as the photographer and click Apply
3) For each photo that you want to submit, select it and copy the URL.
4) Paste the URL(s) into an email and send it to Nikos and Cath at computing.school(at)cern.ch
---
6 September 2017
Updates
Today's updates can be found at https://indico.cern.ch/event/581756/contributions/2705853/
---
5 September 2017
Official School Photo
Wednesday 13:45, it's the official School photo. This is where you will be immortalised - in 30 years' time people will look at the picture and say "Look! All the famous people! They were at CSC 2017 together!" - you get the idea. And please bring your fan :)
Exam
Everyone - please fill in the survey so we know how many to expect for the exam. Yes, this means you. Everyone.
https://indico.cern.ch/event/581756/surveys/
Student presentations
Please fill in the survey if you are interested in giving a presentation.
https://indico.cern.ch/event/581756/surveys/
---
4 September 2017
Video upload
If you want to upload videos, please go to:
https://cernbox.cern.ch/index.php/s/YvCkaWCvWlMtjzW
This week's menu
More deliciousness this week.
In green, those dishes suitable for vegetarians. In addition, they will have "ensalada mixta" (mixed salad) everyday for vegetarians.
Your CSC lecturers
Latest additions to the CSC lecture team today are:
Ivica Puljak, from FESB University of Split, Croatia
Andreas Peters, from CERN
Francois Fluckiger, honorary scientist at CERN
Thomas Keck, from KIT
---
2 September 2017
Updates
The presentation from today's Updates can be found at https://indico.cern.ch/event/581756/contributions/2705776/
---
1 September 2017
Updates
The presentation from today's Updates can be found at https://indico.cern.ch/event/581756/contributions/2705673/
Saturday schedule
Breakfast starts at 7:45 (you get a slight lie-in :)
Our lectures are at the Paraninfo in the morning (where the opening ceremony was).
Your CSC lecturers
New faces in the CSC lecture team today are:
Eamonn Maguire, from Pictet Asset Management
Danilo Piparo, from CERN
---
31 August 2017
Updates
Today's "Updates" presentation can be found at https://indico.cern.ch/event/581756/contributions/2705669/ (or click on the "Updates" entry from the timetable)
Your CSC Lecturers
Welcome to Enric Tejedor, from CERN, who will be lecturing on Software Design.
---
30 August 2017
Madrid guided tour
We start at the Centro de Turismo Plaza Mayor - see https://goo.gl/maps/V3uRd24baXG2
If you get separated from the group, we will reassemble in the Plaza Mayor to get the buses back to Galdos at 20h00 (buses will be at the same point they drop us off).
Sports afternoon (Thursday) - gear to bring with you
We are going to Embalse de San Juan - https://goo.gl/maps/p1m6MSKrmQ62
For everyone:
Dinner is outside in the evening
Bring a warm jacket/outerlayer
Temperatures are lower in the lake area, it WILL get chilly
Hiking & Archery: Appropriate clothing and sunprotection
sturdy shoes
wind/waterproof outer layer
suitablehiking/cycling shorts or trousers
sunglasses, water bottle, sunscreen etc.
Kayak or SUP
Bring clothes you don't mind getting wet and clothes to change into afterwards. More specifically:
sport shoes (or sturdy watersport sandals with clips/velcro)
no flip-flops
a windproof cagoule or K-Way or similar
light clothes (e.g. T-shirt, a light long-sleeved top)
full change of clothing (warmer clothes) for the dinner
Updates
Today's updates presentation can be found under the "Updates" entry at https://indico.cern.ch/event/581756/contributions/2705667/ (or click on the "Updates" entry from the timetable)
---
29 August 2017
Weekly menu for lunch at Montegancedo Campus canteen
In green are the dishes suitable for vegetarians.
Every day they may add a special dish for vegan/vegetarians, but we don't know what it is in advance.
Pub Quiz night
Yes! Hosted by your favourite MC's, Cath and Nikos aim to tax your brains to the limit, far beyond anything the CSC academic programme could ever offer.
We kick off at 21:15, in the Beer & Grill pub just up the road from Galdos.
https://goo.gl/maps/z3qeWgDfEbt
Running routes near Galdos
Some ideas for routes can be found at:
http://www.mapmyrun.com/es/moncloa-aravaca-madrid/
Also good for elsewhere in Madrid - select an appropriate commune from the list (bottom right)
UPM Montegancedo Campus map
In case you're still getting lost around the campus:
---
28 August 2017
Your CSC lecturers
Monday, we have the pleasure of having our minds challenged and broadened by the following two long-established CSC lecturers:
Arnulf Quadt, from Universität Göttingen, Germany;
Bob Jacobsen, from University of California.
Tuesday will see a new lecturer, who will also double-up as our DJ on Friday night:
Andrzej Nowak, from TIK Services, Switzerland.
Connect to the Wifi network at UPM
The Wi-Fi network is called "CSC".
The Wi-Fi security is "WPA2 Enterprise" and the authentication "Protected EAP (PEAP)" with "MSCHAPv2".
No "Anonymous identity" is needed and no "CA Certificate" is needed either.
The username is "csc" and the password will be provided to you. Here are some screenshots:
On Mac OS
On Android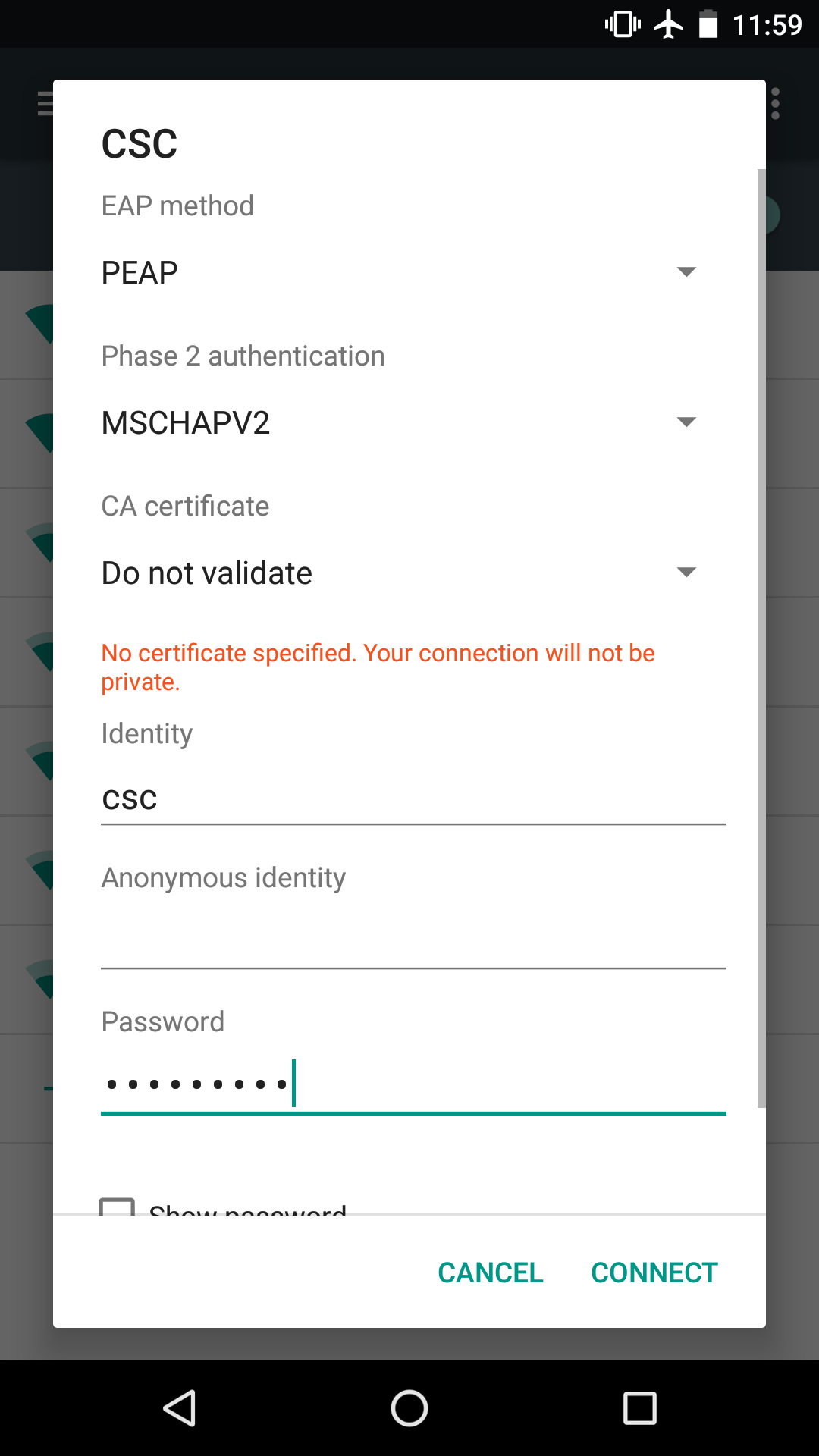 On Debian (Linux)
---
27 August 2017
Arrival Day Info
I'm in a bright orange t-shirt today, fear not, you will find me :) If not, my number is in your e-mail
You will get your CSC badge and welcome pack from me; please have your passport/ID ready for Galdos Security to issue you your room keycard.
Food
There will be light snacks available mid-afternoon in the Reception area.
Welcome BBQ kicks off at 7pm in the Reception/outdoor terrasse.
Breakfast tomorrow (Monday) is from 7:15am. Please take note of the Monday schedule that has been included in your pack.
VM installation
VM - any problems with installation, or any question, please get in touch with Nikos BEFORE tomorrow :)
---
26 August 2017
Welcome!
Hello everyone, and a warm "pre-welcome" to this year's CERN School of Computing 2017, held at UPM in Madrid, Spain. It all kicks off shortly, and we're very much looking forward to meeting you!
CSC Live is the live blog by the organisers (Sebastian, Nikos, Cath; our local organisers Xavier, Maria and Marinela; and our lecturers) to provide you with the latest information about events, changes, and anything that we feel you should know during the School.
You will have all received your 'Essentials' information, and very soon (if not already), the VM installation and credentials.
We'll also be holding Morning Briefings everyday to keep you up-to-date, then post the briefing information here too.
However as we all are human and prefer some interaction with real live people on the other side of our screens, don't forget about sharing on Twitter and having a bit of a chat with other students attending the School on our dedicated Slack channel:
Twitter - #csc2017 #cernschoolofcomputing
Slack chat channel, just for you - https://csc-2017-forum.slack.com/
Excited yet? I know I am - we had a fantastic School last year (see the photo gallery for CSC 2016) and we're very happy to be coming together for another edition of the CERN School of Computing, this time in the amazing city of Madrid. Hopefully it will be even better than last year! Is this possible?? It's up to you..... :)